There's a hymn I really, really hate.
Actually, there are several. I hate "On Eagle's Wings" (ELW 787 for you ELCA Lutherans out there). I mean I loathe this hymn. I has an awful melody that's impossible to sing well, and its tawdry sentimentality unsettles my bowels. I understand the lyrics are drawn from Isaiah, and some of the images from psalms, but it's still a piece of dreck that I do not ever want to hear again.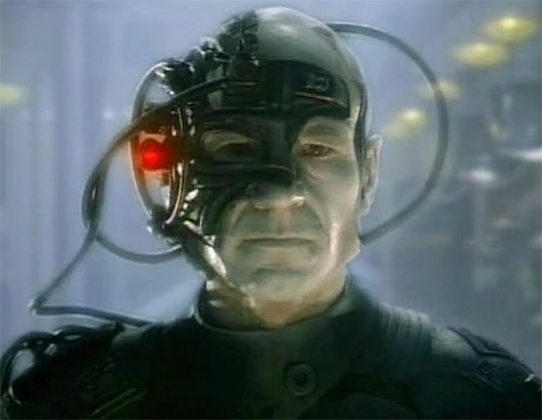 And there's "Earth and All Stars" (ELW 731). While the copyright is 1968, it has the feel of 1930s socialist realism. This is a hymn for the hive society, in which the individual human being is annihilated by some great, anonymous, utilitarian, collective good. It is society as machine, united in purpose, worshiping together from the home, the factory, the office, and the school, all in unison (with some in harmony), singing as one of the great work we will all do together. "Earth and All Stars" is the kind of hymn the Borg would sing were the Borg inclined to believe in God as they disassembled and assimilated you.
It's the kind of hymn Big Brother would instruct Party members to sing in the Oceania of 1984. It's a melodic boot forever stomping on the face of humanity.
But the hymn I really hate is "They'll Know We Are Christians." I don't think it made any Lutheran hymnals, but I have sung it — and I think I was part of a group that played it — in a Lutheran church.
I hate this hymn not because it has an awful melody — it doesn't — or because it proclaims some horrific ideal world in which we are all interchangeable (and disposable) widgets made of meat, but rather because the song is an outright lie.
We are one in the Spirit, we are one in the Lord
We are one in the Spirit, we are one in the Lord
And we pray that our unity will one day be restored
And they'll know we are Christians by our love, by our love
Yeah they'll know we are Christians by our love

We will work with each other, we will work side by side
We will work with each other, we will work side by side
And we'll guard each man's dignity and save each man's pride
And they'll know we are Christians by our love, by our love
Yeah, they'll know we are Christians by our love.
I could say why this is a lie, but Pascal-Emmanuel Gobry does a far better job in this essay over at The Week:
In Christianity, baptism, as the rite of initiation into God's people, is a death-and-new-life rite. Water symbolizes both death and life. Baptism is supposed to drown the old self and bring a new self to life. Because Christians are supposed to recognize themselves as sinners saved by grace, they cannot talk cogently about anything without starting with introspection and recognizing their own shortcomings.

The simple fact of the matter is that people now known as "conservative Christians" used to run the world. And we did a lot of good things, but we also did a lot of very bad things. And that, ultimately, is why we're losing.

As the Catholic theologian Karl Rahner wrote, "The number one cause of atheism is Christians. Those who proclaim Him with their mouths and deny Him with their actions is what an unbelieving world finds unbelievable."
In short, we've shown very little love, largely because we've wielded power. And because we've wielded power, we've had no need to show love.
The world has seen the difference between what we proclaim — God's forgiveness for sinners — and how we live, which is to condemn, marginalize, exclude, and terrorize sinners. The purpose of Christendom — the church with the power to coerce and compel both faith and action — is a society of virtue, in which some people are simply too sinful to be allowed to participate or belong. Or even live.
Which brings me to something a reader wrote recently:
Yes, I think its true that God bears sin and at least "allows" it in some way and these ways are not tidy or moral narratives and the Bible does not provide easy answers to social questions… However, if the question is about marriage or other social issues, I think there are other concerns than just Israel's relationship with God. Social conservatives, and I would count myself among this number, think that there is such a thing as order and organization, and these things matter. It matters to a child that they have a relationship with their biological parents. It matters that mom doesn't have twelve different boyfriends, none of whom are ever stable. It matters that men and women have some healthy way of relating to one another. It matters that sex is not a free for all. It's confusing for Bruce Jenner to be a man for a long time, and then not one now. Are there always easy ways to enforce social norms? Certainly not in our society, but some of those "confining" roles and taboos made for human happiness, and gave a structure to peoples lives.

None of this excuses the violent ways order might be maintained, such as the utter exclusion of LGBT or domineering, entitled men (Mad Men), but disorder has its own violence, its own victims. Sometimes it seems that "the least of these days" will not have a chance for a stable family, since stable middle class norms are only able to be maintained by people who can order their own lives without help. I count myself as having grown up in a family where order and stability worked, and it made my life and the lives of my siblings much better and much more stable. I've worked with children and adults whose lives have been violent and unstable, and no, just promoting heterosexual marriage is not the answer, but all things are not equal. Some ways work better than others.
I am actually sympathetic with much of this. Yes, there is order and organization, and yes, those things do matter. They really do. I speak as one for whom a significant portion of my young life — both at home and in school — was subject to cruelty and violence. I can imagine what a better order might have look liked, and how it would have treated me and formed me (and my wife) better.
But what I cannot do is undo what I experienced. Or how it formed me. And I did not experience the world as disorderly, but rather, as very orderly. Order did work — it just almost always worked against me. Order was violence and cruelty and callousness aimed at me and people like me. People who, it was decided, did not matter not because of what we had done but simply because of who we are. Our lives had no value and were not worth protecting.
The problem with a culture of virtue that social and cultural conservatism creates is that it creates sanctions that claim to be objective — based on behavior — but are really very, very subjectively enforced. (Some people can just get away with nearly anything, and others are punished merely for waking up in the morning or taking up space.) The Evangelical Lutheran Church in America, for all its social, political, and theological liberalism, is still very culturally conservative. It believes deeply in bourgeois virtue, in life properly lived and choices properly made, and in judging those as lacking (and treating them accordingly) who do not live that kind of life. And one of the things that the ELCA (or its leaders in Chicago and Washington, D.C.) concluded about me (among many, I think) is that I was not virtuous enough to be a pastor. I suspect Bishop Miller in Chicago was correct when he told me he could not, in good conscience, recommend me to a congregation knowing what he knew about me as a result of my book. I mean really, what good, pious ELCA congregation would want me as their pastor? I suspect that's just a reality of a culture that demands a certain amount of virtuous sinlessness of those it expects to preach and proclaim the Gospel — the forgiveness of God.
Which makes Gobry's point. When I tell my story, even the least religious people I have met — from ex-girlfriends to executives of world-spanning corporations — respond with some version of, "well, that's not very Jesus-y of them." The world knows what the Gospel looks like. It really does.
And the world knows the church, enamored of power and privilege and order, has not lived the Gospel it proclaims. Not even close.
This is why I focus on the story of Israel. Proclaim and teach things about love, marriage, good order, and proper human relationships — just don't claim they are biblical. Frequently, the things the church teaches conflict or contradict much of what the Bible witnesses to in Israel's encounter with God. Because the story of the Bible is the story of God calling and forming Israel as a people, that people's complete failure to live into and follow that call, and God's refusal to abandon His people to utter annihilation or oblivion. Again. And again. And again.
I'll admit, I struggle with Paul's letters in a way I do not struggle with Leviticus or the Gospels. Because Paul seems set on creating a community of virtue that condemns and shuns and excludes, and nothing in the story of Israel — nothing in the stories we have of Jesus — says God actually does that. Because I know what it is to be on the wrong side of good order, to be condemned, and shunned, and excluded, simply because I breathe. Paul seems to appreciate that he too is a sinner called by Jesus to follow and preach and proclaim the truth, that Jesus is the crucified and risen Son of God. I'm not sure yet if or how that informs or tempers Paul's desire for good order or a virtuous assembly. (And I confess this is because I still do not know what to do with Paul. I like the Paul of Acts much better than Paul the letter writer.)
It's this story of a sinful, failed, conquered, and exiled people called and gathered and redeemed by God to love God and our neighbors as ourselves even in the midst of occupation and exile that will sustain us and give us a faith worth suffering for and finding hope in. Not some set of rules derived in part from scripture and in part from philosophy and a very abstract notion of nature oblivious to how nature actually seems to act much of the time.
Sarah puts it best in this particular essay about her time teaching religion at a Catholic high school, which also touches on some of the point Gobry makes as well:
As I drifted from group to group listening to the conversations, what I heard surprised and saddened me. I heard stories of students who were taught to say a few words for the unborn every night at bedtime prayers but had no idea how to describe the Holy Spirit, students whose high school religion courses had covered morality backwards and forwards but had never touched on Scripture or Church history, students who had attended Catholic school since kindergarten but had no idea that Jesus was God until they had read the first chapter of our course textbook, and students who were becoming (or had already become) so disenchanted with the shallow messages they were receiving at church that they were considering leaving Christianity entirely. It became clear that my students hadn't blown off the assignment at all. In fact, they had taken it very seriously, and many had articulated carefully all the tenets of Christianity they had ever known.
It would be nice if people knew we are Christian by our love — for God, for each other, for our neighbors, for the world. A courageous love that lives and proclaims the truth of God's love for the world. But right now, love is more an accidental by-product of the church, rather than it's purpose.
And the world, for all its faults, really does know this.